We think it's official: August is Hamilton Appreciation Month.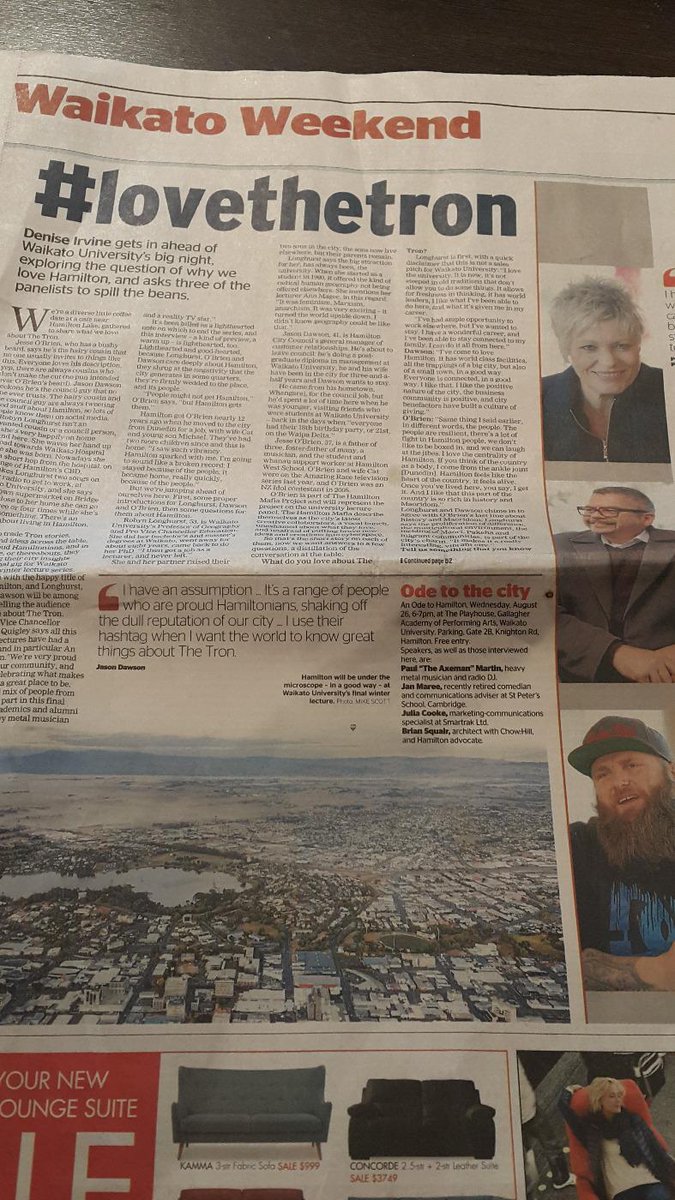 Between the Spark Media Arts Festival, the Hamiltonphilic Waikato Winter Lecture Series, Hamilton Book Month and cheery pieces in the Waikato Times and the Hamilton News, this month has been all about celebrating the city.
Getting to do a Pecha Kucha totally anonymous (involving such heist-like fun as delivering packages to Richard Swainson), getting profiled in the Hamilton News amongst some of our favourite yay-Hamilton bloggers, and seeing the Hamilton Mafia in the Waikato Times has been totally exciting.
We're also pumped for fellow Hamilton Mafioso and Amazing Race (real winner), Jesse O'Brien being on the panel for an 'Ode to Hamilton' tomorrow night at Waikato University, alongside other favourites such as Jason Dawson, and Robyn Longhurst (who is rumoured to now be @lovethetron).
It's auspicious then, that the city birthday is also in August. We have to admit, the 151st birthday on the 24th of August was a little quieter than the one last year, but we are firm believers that every birthday should be marked with something a little special.
Last year, we released our list of the top tweeters you needed to be following in 2014.
It's 2015 now, and we maintain that lists are still very much in fashion. We've seen a few floating around Hamilton lately: Jess Molina getting on the coveted Hamilton 30-Under-30, and us not making it onto the Waikato Rich List, yet again (possibly because we spend all our monies on food?).
But we know that the list you really really  want to be on is this one that we haphazardly pulled together by vague committee:
Top 50 Hamilton Tweeters You Should Be Following in 2015
The names are in no particular order (except maybe for number 50), and we decided to be a little cute and keep the descriptions to 140 characters or less. Considering these are some of the most interesting people in town, it was no mean feat!
Enjoy -and Happy Birthday Hamilton!
xx lovethetron
@webtaniwha –Aka 'Mr Hamilton'. Follow this man-about-town for enthusiastic tweets about the latest foodie haunts, and the occasional update on Northland
@darkroomjesse –One half of #TeamCatandJesse (the real winners of the Amazing Race). Amongst other things, a real-life Mafioso & caretaker of small children
@h_ahartley –Proof that a real community is a city where the Bishop will happily tweet you her Friday night plans or recommend places to eat cake. #love
@georgie_pienz –The story of how one Morrinsville girl became an icon in Hamilton. Not to be confused with the pie sold at McDonald's.
@Wonderhorsebar –Walk down a dark alleyway, ask for a man named Alex. Tell him to mix you something special, with a cheeseburger on the side. Go on, dare you
@juliehardakernz –Mayor of the best city in New Zealand. Spends spare time waking up before the rest of the city to snap early-morning sunrises.
@skinditty –Hamilton enthusiast and International Man of Mystery (Creek).
@kelseyavoidingtinder –One woman's hilarious -and sometimes awkward -quest to prove that dating away from Tinder and in Hamilton is 'a real thing'.
@crafthamilton – New kid on the block and sibling establishment to @gothenburgnz. Once overheard being referred to as 'The Beer Lover's Shangri-La'.
@gydelne –Hamilton's foremost cat enthusiast. Attempts to have long conversations and games of hide-and-seek with the world's most reluctant cat.
@NZVic –Spends a lot of time around helicopters. Also blogger of life in paradise, involving wide open spaces, children and & furry animals.
@justlyrica –Singer, ex-radio host & ex-face of responsible public transportation, who now spends her days as a playgrounds inspector & dumpling-sampler.
@DutchCatNZ –Owner of the brightest smile on reality television, other half of @darkroomjesse and strongest contender for the title of Mother of the City
@pip_stephenson –cheese scone enthusiast who prefers finding chocolate to finding money
@AngelaCuming –Official Hamilton Ambassador to Ireland/mother of #MoolooBaby, who may grow up to be weirded out by the fact that his birth had a hashtag.
@MeganCampbellNZ –Superwoman who can simultaneously be in multiple cities at once. Begetter of pastaphiles. Rumour is she also secretly runs New Zealand.
@tarasutherland –Pet photographer, and probably the only person in Hamilton with a better job than @justlyrica the playgrounds inspector/dumpling-sampler
@G00d_Neighbour –If you needed another incentive to beat Aucklanders to buying a house in Rototuna, this would be it. Be prepared for epic foodporn.
@Hamfoodblog –WHO IS THIS PERSON WHO KEEPS EATING FOOD AND NOT TELLING US WHO THEY ARE? Got clues? Email us at ilovethetron@gmail.com.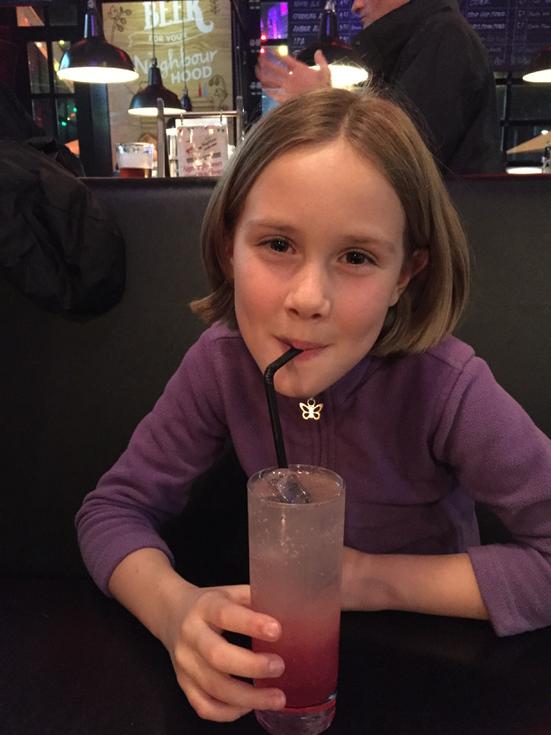 Mini @MeganCampbellNZ
@flibertygibbety –Creative Queen of Arts Alley, inhabitant of the coolest art gallery-loft space office in town, frequenter of Mr Milton's, bringer of magic.
@PhidMcAwesome –One man's journey from hobbyist tech nerd & radiophile to global superstardom, along with lovable sidekicks @CharisMcawesome & @V8Matty.
@GluteyGirl –Fearless advocate of sniffing food, talking about poop, and living the gluten-free lifestyle to the fullest.
@WGDurning Moonlights as CEO of the Chamber of Commerce, but we're pretty sure it's just a side-gig to pay for his main passion: decadent food. Teehee.
@readwithaview –subscribes to the philosophy that great books are only as great as the places you read them in. Follow for tips on books and locations.
@hpwritesstuff –Hamilton's Music Writer in Residence, and flash fiction aficionado. Sharp, witty and makes even screaming heavy metal seem divine.
@waikato –When they're not busy tweeting stunning photos of trees and lakes and ducks, they're doing extreme things like visiting Antarctica.
@WintecNZ –Hamilton's bastion of all things cool, like media and art and fashion and Steve Braunias.
@jessmolina –Hamilton's resident 'It-Girl'. Magazine Editor, Passion Project Believer, Metropolis Patron. Most likely the reason why @WintecNZ is so cool
@Mandysuess –She's all about radio and food. With a Twitter following to rival the @waikato student population, it's easy to see what the fuss is about
@CrikaRika –Self-confessed selfie-junkie, young politico, and general Hamilton socialite with a killer taste in hair and blazers.
@traceyrcooper –Favourite wisecracking ex-journo-turned-communications-guru, with hair to die (dye?) for.
@jakequinn –Follow Jake for adorable 'Dad-just-casually-hanging-with-kids' snaps, and pretty pictures of new things we could be building on the river.
@ns510x –We're still not sure who this girl is, but she intrigues us with her snaps of food and bookshops, and we're glad she's in our lives.
@sambaxter –Public Relations aficionado, Pechakucha speaker, anxiety expert, writer and notable personality.
@saycheeselouise –Feminist, photographer, maker of clothes and crafts, pom-pom enthusiast.
@joshua_drummond -Our favourite expat cartoonist, and other half of @louise_bee (aka Kate Middleton).
@chamfy –Hamilton's original queen of foodporn. Follow her hashtag #chamfyfoodporn to see what she has for each meal (hint: it's poached eggs).
@lunnskyofficial –Waikato University socialite and powerhouse. Appears at events with @chamfy. Possibly a protege of @traceyrcooper.  
@nexusmag –Alongside being the city's pinnacle of student journalism Nexus does what all modern publications do well: live-tweeting social events.
@hornykitten –So elusive that the NZ Herald dedicated multiple inches of column space to his international blogging, and still mistook him for a female.
@WintecPressClub –Hamilton's answer to the latter years of the Alongquin Roundtable. They'll let you know if 'your cool [sic]' enough to be invited.
@camtheguzz –Our favourite new arrival to breakfast radio.Despite the (obvious) chemistry, she's *not* @buntyontheradio's wife, as some have assumed.
@jessemulligan –He knows the two most important things in life are food & Hamilton, he make us laugh, and is the best thing to happen to RadioNZ in a while.
@nivaralounge –Why wouldn't you follow Hamilton's favourite underground jazz club?
@HamiltonZoo –Clearly the best zoo in New Zealand. Rumour has it if you are having a bad day, they will Tweet you pics of your favourite animal being cute
@ceriphinz –Early adopter of #lovethetron, and beloved longtime Hamilton personality.
@MxDeJ –One of our favourite Hamilton expats, and owner of incredibly fascinating life story. Get him to tell you sometime.
@hamurbanblog – Educational, informative and holds the city to account on all matters cycling-related.
@JMiddleton_imgs –The most iconic photographer to come out of Hamilton in 150 years. Follow him and look at the city in a completely new light.
…and last, but not least -someone who we have pre-emptively included on this list, because we are pretty sure we can predict the future:
@PaulHenryShow –He makes jokes about us now, but he doesn't know that one year from now he'll have come to his senses & moved here because: best city in NZ.